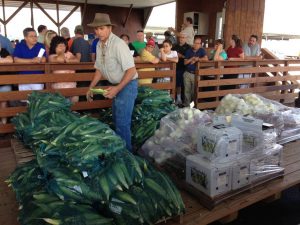 Foodborne illness outbreaks in the United States and abroad continue to make the news.  Regardless of whether it is fresh vegetables, fruits, nuts, animal products or fish, or packaged products, the on-going incidence of contaminated food has resulted in a demand for food safety assurance and increasing regulation in the farm to fork continuum.  While there is no way to completely eliminate all of the potential risks of microbial contamination, there are many food safety practices growers, food handlers, and consumers can implement to reduce risks.
We are excited to share about the Virginia Fresh Produce Food Safety Team and our many efforts in the Commonwealth and elsewhere.  We will feature regular news stories,  as well as provide information related to upcoming events and opportunities.  Make sure to regularly check out our Blog calendar of trainings and other happenings related to produce food safety.
This blog is closely linked to our comprehensive website, http://www.hort.vt.edu/producesafety/index.html, which provides lots of information about the Fresh Produce Food Safety Team, as well as timely and science-based resources geared to reducing fresh produce contamination risks, beginning at the farm level, progressing through the market-place to the final end-user, the consumer.  Whether you are a produce grower, a marketplace vendor or buyer, a home consumer, or other interested stakeholder, we invite you to explore our website and stay connected by this blog!
For more information about the Virginia Fresh Produce Food Safety Team or to contact us with any questions, email us at vtproducesafety@gmail.com.